Laser Surgeon: The Microscopic Mission description
What it takes to become a physician-microsurgery? Finish College, my internship, enroll in a residency to specialize... or run a unique simulator Laser Surgeon: The Microscopic Mission. It is, of course, will not make you a true surgeon (which, by the way, I warn you in the introduction), but will allow a little bit to feel involved in this challenging profession.
Laser Surgeon - this is a simulator of the doctor as a whole, not some separate stage of treatment. You have to collect complaints and anamnesis, to conduct laboratory and instrumental examination, set the diagnosis and for treatment. But it ahead, and while you are a young professional, most of this work will make others and you will only have to hone their skills in the management of the microprobe (with which you will treat the patient). However, the higher the difficulty level, the more independent you become, and so it's easier to make a mistake that will lead to the death of the patient.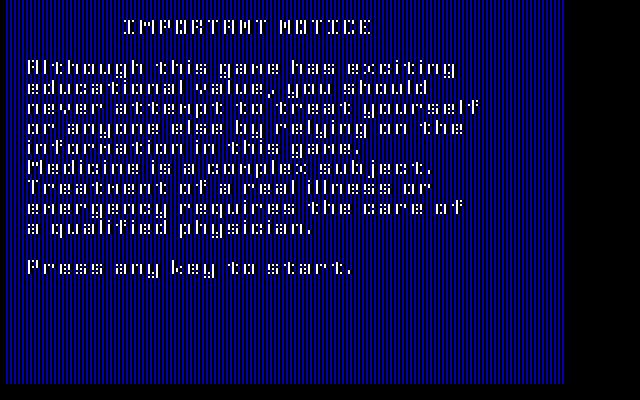 The game is in full throws of anatomical and clinical terms, names of drugs and apparatus. To deal with all of this variety helps in-game guide, as well as an extensive guide for the game, which tells about the human body both at the organ and histological level. The latter is particularly important, as the tissues and cells you will see in the course of the operation.
Actually, the operation seems to be clearly, but not plausible. Since the access is made through a major vein, we see the lumen of the vessel, which float corpuscles. Next, you need to hold the probe to the required vessel and with a laser to produce the desired manipulation. In addition, during the operation, you can enter the medications and monitor the patient's condition.
In the end we have a very complex but unique game and if in the childhood you dreamt to become a surgeon and save people's lives and are not afraid of difficulties (in the form of the game's manual), then this game is for you.
Want to play Laser Surgeon: The Microscopic Mission online now, play it on your browser here.
Source: Archive.org, Mobygames.com